Born on stage under hot lights in the crucible of sound and fury.
Creating punk spunk and glam clamor.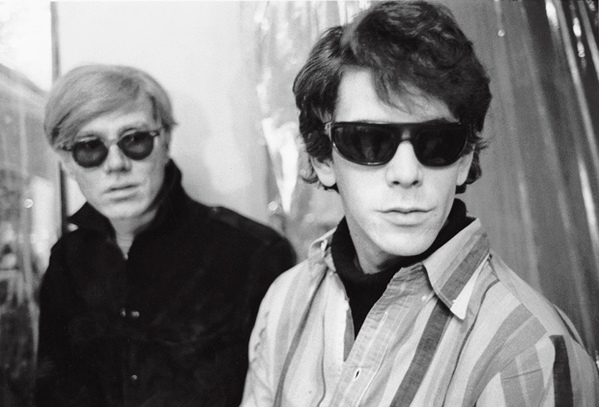 When Andy Met Lou
The intersection of two masters of the late 20th Century, Andy Warhol and Lou Reed, resulted in a spontaneous combustion of music, film, poetry, visual effects and underground culture that spawned generations of followers and redefined art in the modern world. Warhol called it The Exploding Plastic Inevitable.
Thomas Mulready presents a multi-media presentation featuring rare video, needle drops, trivia, contests and give-aways, followed by a live music showcase by the band Vanity Crash pairing music of The Velvet Underground with their own sizzling originals.
This event takes place at 8:00PM on Friday, September 13 and Saturday, September 14, 2019 at the BOP STOP, 2920 Detroit Avenue, Cleveland, OH 44113. Additionally Sunday, September 22 at 11:00AM Brunch at Jilly's Music Room, 111 North Main Street, Akron, OH 44308.
⇒ Note: each evening may contain slightly different material. All ages will be admitted. The show contains explicit content.
Maple Grove – Fri, Sept 4 – with Soraia
Soraia is a Philadelphia-based alternative rock/post-grunge outfit fronted by lead vocalist ZouZou Mansour (an expressive, big-voiced singer with a gutsy, edgy, gritty, forceful style). Soraia's energetic, intoxicating live shows are their calling card, showcasing an infectiously defiant intensity – ZouZou Mansour has been referred to as "a true mix of Iggy Pop and Joan Jett" onstage.
Steven Van Zandt, of Bruce Springsteen & The E Street Band and host of Little Steven's Underground Garage on SiriusXM, has taken Soraia under his wing and produced them and placed them on his Wicked Cool Records label. Currently on tour in support of their latest release "Dead Reckoning". https://www.soraia.com/

Shots I took at the Maple Grove last October.
BIO
Vanity Crash was born on stage under hot lights in the 
 crucible of sound and fury as the glam-punk band The Angry 
 Inch in Cleveland Public Theater's production of the rock musical Hedwig and the Angry Inch. Ever since, Vanity Crash has been dressing up and throwing down with eye-popping 
 synchronized light shows, outrageous stage costumes and provocative attitude, opening for the likes of the New York Dolls, Poison, Semi Precious Weapons, the Darkness, and Gogol Bordello. The band placed songs in the movies Kingsbury Run and Hellweek. Their recent acclaimed tributes to David Bowie include timeless gems performed live alongside their own incendiary originals.
Jeff Niesel of Scene magazine says, "One of the only bands on the local circuit that keeps the glam rock flame burning brightly, Vanity Crash has been going strong for a decade now, pumping out good, gritty records with regularity."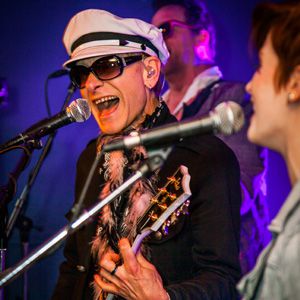 Dennis Van Crash
Having played guitar for Queue Up, System 56, Verdanzen and The Times, Dennis has also composed original scores for numerous plays, including the musical version of Lysistrata and the recent hit at Cleveland Public Theatre, Shakespeare's Titus. Dennis served as musical director and guitarist for the musicals Hedwig and the Angry Inch and Bloody Bloody Andrew Jackson. When not writing songs and playing guitar, you can find Dennis behind the camera creating videos and photographs.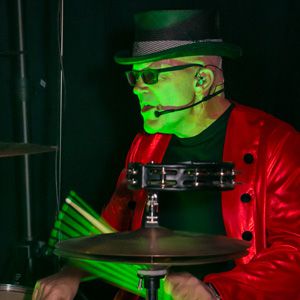 Thomas Anonymous
Thomas has appeared in Letters From Camp, Modern Time, The Clean, Haywire and Cats on Holiday. He has performed in the orchestra pit for theatrical productions ranging from West Side Story to Music Man to The Rocky Horror Picture Show. As a solo performance artist he has performed in theatres, cafes, bookstores and junkyards throughout the Midwest, New York City, Baltimore and Paris.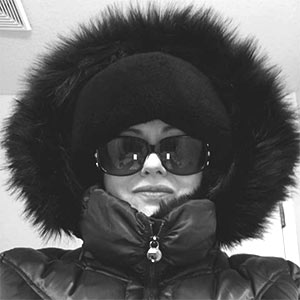 Virginia Plain Crash
What's her name? She's been around a long time just trying to make the big time since The Rubburheads. Made her stand in the desert strand singing and playing guitar with bilingual darlings, Everybody's Cousin, until falling in love with the sheer and chic Vanity Crash. A songwriter and photographer, she also loves to sing and to bang on things that make sound, all while dancing the cha-cha through till sunrise, far beyond the pale horizon.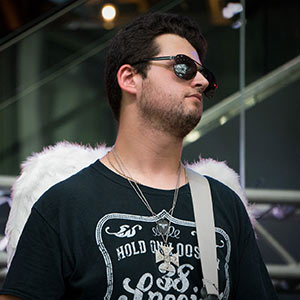 Matthew Angel
Matthew loves rock and roll — it's in his blood. Many say he's an old soul in a young body. At 22, he is most influenced by the blues of Stevie Ray Vaughn and the hot licks of AC/DC. This persuaded him to get his signature SG guitar. Being in Vanity Crash was exactly what Matthew needed. It had been years since he was in a band, and to find such a good set of musicians that love playing and creating music, it is truly a gift.