Born on stage under hot lights in the crucible of sound and fury.
Creating punk spunk and glam clamor.
50th Anniversary of Aladdin Sane
JUKEBOX
1404 W 29th St, Cleveland, OH 44113
– Saturday, May 13, Brunch Show, Doors at 11:30am, Show at noon.
Join us for a multimedia extravaganza as we explore David Bowie's birth, life and the 50th anniversary of the release of his infamous Aladdin Sane album.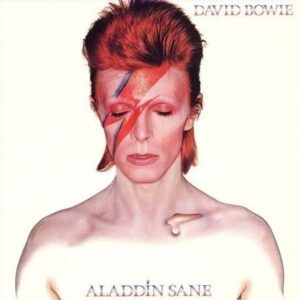 Vanity Crash will perform its eye-popping live show which will include, not only fantastic songs culled from our six albums, but a full array of Bowie classics from his albums The Man Who Sold the World to Black Star.
The multimedia portion will include exclusive interviews Vanity Crash had with original Spiders From Mars' Woody Woodmansey and Mike Garson. Woody and Mike talk about their first concert in the USA, which was at Cleveland's Music Hall, and many David Bowie stories.
Reserve your tickets now!
From Wikipedia:
Aladdin Sane is the sixth studio album by David Bowie, released on 13 April 1973. The follow-up to his breakthrough The Rise and Fall of Ziggy Stardust and the Spiders from Mars (1972), it was the first album he wrote and released from a position of stardom. It was produced by Bowie and Ken Scott and features contributions from Bowie's backing band the Spiders from Mars — Mick Ronson, Trevor Bolder and Mick Woodmansey — as well as pianist Mike Garson (who has performed on two Vanity Crash records), two saxophonists and three backing vocalists. Recorded at Trident Studios in London and RCA Studios in New York City between legs of the Ziggy Stardust Tour, the record was Bowie's final album with the full Spiders lineup.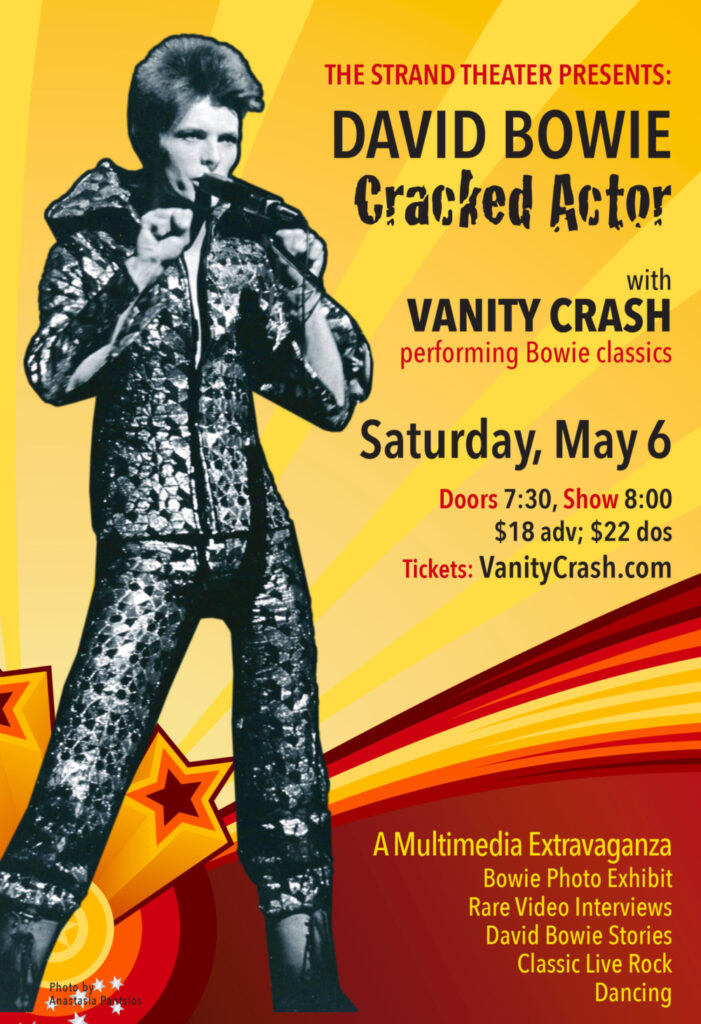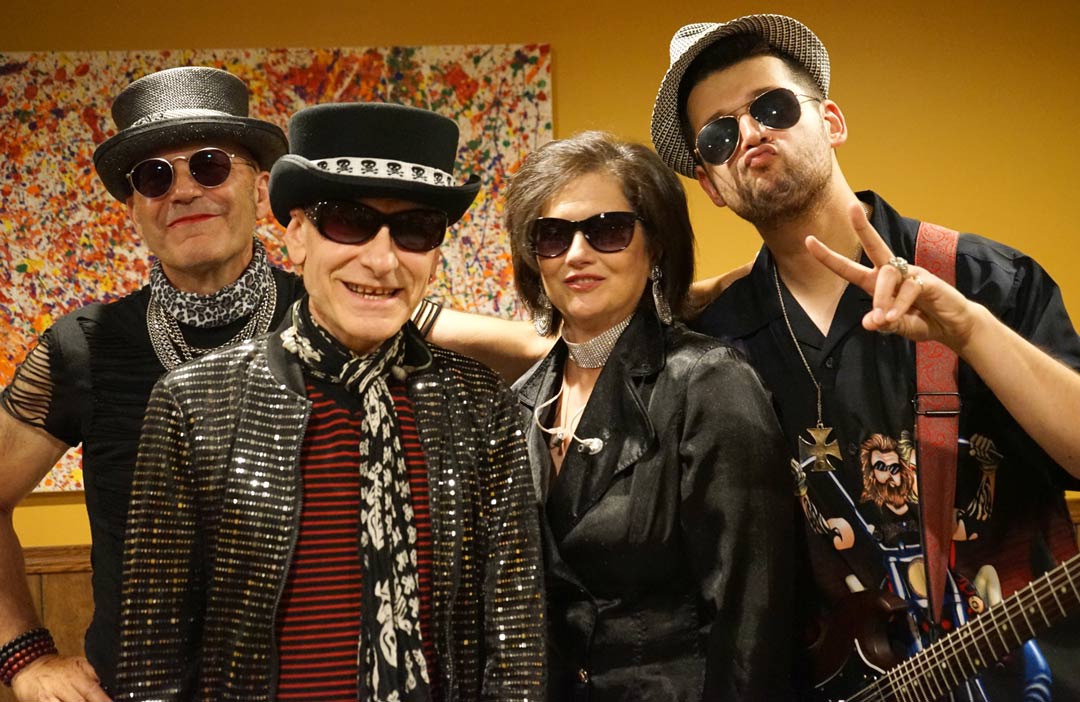 BIO
Vanity Crash was born on stage under hot lights in the 
 crucible of sound and fury as the glam-punk band The Angry 
 Inch in Cleveland Public Theater's production of the rock musical Hedwig and the Angry Inch. Ever since, Vanity Crash has been dressing up and throwing down with eye-popping 
 synchronized light shows, outrageous stage costumes and provocative attitude, opening for the likes of the New York Dolls, Poison, Semi Precious Weapons, the Darkness, and Gogol Bordello. The band placed songs in the movies Kingsbury Run and Hellweek. Their recent acclaimed tributes to David Bowie include timeless gems performed live alongside their own incendiary originals.
Jeff Niesel of Scene magazine says, "One of the only bands on the local circuit that keeps the glam rock flame burning brightly, Vanity Crash has been going strong for a decade now, pumping out good, gritty records with regularity."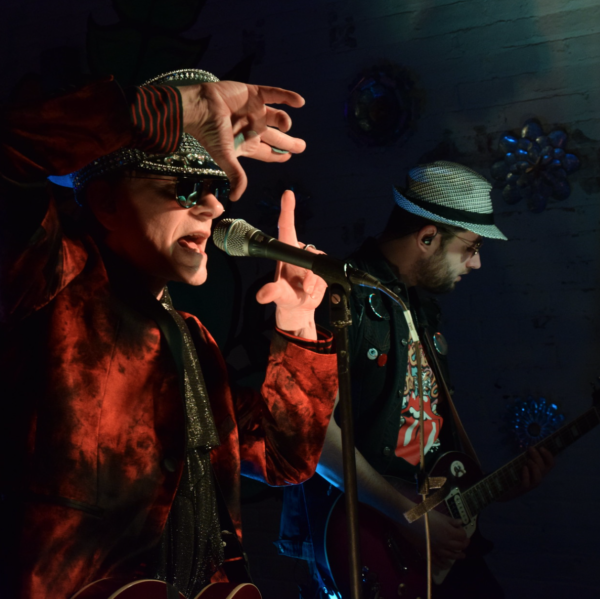 Dennis Van Crash
Having played guitar for Queue Up, System 56, Verdanzen and The Times, Dennis has also composed original scores for numerous plays, including the musical version of Lysistrata and the recent hit at Cleveland Public Theatre, Shakespeare's Titus. Dennis served as musical director and guitarist for the musicals Hedwig and the Angry Inch and Bloody Bloody Andrew Jackson. When not writing songs and playing guitar, you can find Dennis behind the camera creating videos and photographs.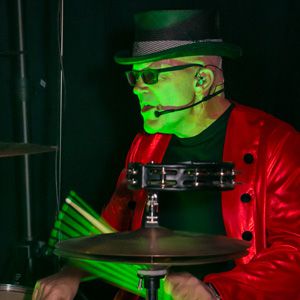 Thomas Anonymous
Thomas has appeared in Letters From Camp, Modern Time, The Clean, Haywire and Cats on Holiday. He has performed in the orchestra pit for theatrical productions ranging from West Side Story to Music Man to The Rocky Horror Picture Show. As a solo performance artist he has performed in theatres, cafes, bookstores and junkyards throughout the Midwest, New York City, Baltimore and Paris.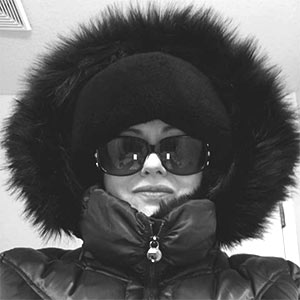 Virginia Plain Crash
What's her name? She's been around a long time just trying to make the big time since The Rubburheads. Made her stand in the desert strand singing and playing guitar with bilingual darlings, Everybody's Cousin, until falling in love with the sheer and chic Vanity Crash. A songwriter and photographer, she also loves to sing and to bang on things that make sound, all while dancing the cha-cha through till sunrise, far beyond the pale horizon.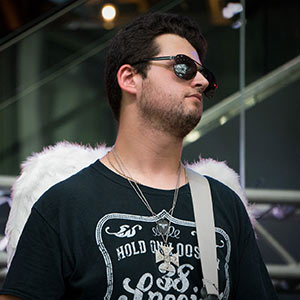 Matthew Angel
Matthew loves rock and roll — it's in his blood. Many say he's an old soul in a young body. At 22, he is most influenced by the blues of Stevie Ray Vaughn and the hot licks of AC/DC. This persuaded him to get his signature SG guitar. Being in Vanity Crash was exactly what Matthew needed. It had been years since he was in a band, and to find such a good set of musicians that love playing and creating music, it is truly a gift.